About Koehler Chiropractic Sports & Spinal Rehab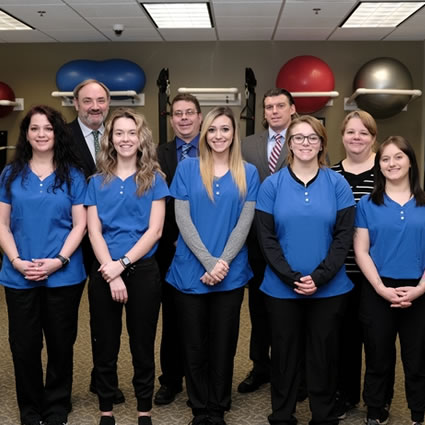 Enhancing your health potential for a lifetime!
If you've been to other doctors' offices that felt cold or sterile, you'll be pleased to know that Koehler Chiropractic Sports & Spinal Rehab is the complete opposite. In our welcoming and cheerful practice space, you'll be warmly greeted and treated like a family member.
Dr. Thomas Koehler has been in our current location since 1995. He and his team of chiropractors are personable and caring. They will take the time to get to know you and determine how to best address your health concerns.
Meet the Doctors

Our State-of-the-Art Space
With nearly 5,000 square feet, our spacious practice can serve your health needs. Our state-of-the-art building and office completed construction in April of 2008. We feature the finest chiropractic and physical therapy equipment to ensure your comfort and achieve the most for your health care.
Caring for Patients of All Ages
From kids to seniors, and every age stage in between, patients of all ages receive high-quality chiropractic care tailored to their needs and condition. Our doctors have various techniques, and will use the one(s) to help you get the best results possible.
We want patients to know that we're here to help them and determine what it will take to get them better." - Dr. Koehler
Organizations We Are Part of
An important part of our practice philosophy is to be involved with our community at the local, state and national level. Koehler Chiropractic Sports & Spinal Rehab is pleased to belong to the following organizations:
Kankakee and Watseka Area Jaycees
River Valley Foundation (Board Member)
Kiwanis Club
American Chiropractic Association
Illinois Chiropractic Society
Patient Success Stories
Each day, we're privileged to see patients discover the benefits of chiropractic care. Over the years, we've helped individuals experience remarkable improvements. One of Dr. Koehler's youngest patients was a 6-month-old infant with projectile vomiting that pediatricians weren't able to resolve. "The mom would bring her in to see me at 6:30 at night in the middle of winter, and after about six adjustments, the baby was fine," he said.

About Koehler Chiropractic Sports & Spinal Rehab | (815) 939-4900